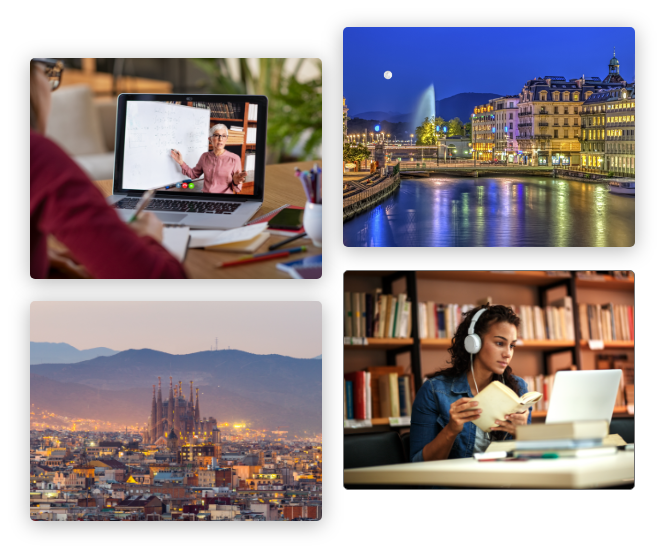 Bachelor of Business Administration Degree Program
The mission of the Bachelor of Business Administration (BBA) degree is to provide students with a broad foundation covering the major functional areas in business: accounting and finance, management, marketing, and operations and by developing skills and knowledge that can be applied to problem solving across these areas in any business, industry, organization, or government agency context.
BA Business Administration Program Objectives
Bachelor of Business Administration students will be ready for the changes in the global business market by gaining a clear understanding of how the business world operates and what makes an international corporation successful.
Graduates of the Bachelor of Business Administration can:
Analyze the financial health of businesses through financial statements and applicable quantitative and qualitative tools/methodologies.
Apply management principles in ways that optimize organizational resources and respond to the impact of change on business sustainability.
Develop a business plan that considers implementation issues, including the financial, legal, operational, and administrative procedures involved in new business ventures.
Conduct assessments of business problems and opportunities that result in recommendations for courses of action.
BBA Degree Program Overview
Online and on-campus course modalities to accommodate busy schedules and preferred learning styles.
Frequent and flexible start dates – three 16-week semesters per year and offers students 9 entry dates per year.
40 Total Courses – 120 US/240 ECTS semester credit hours
Includes 14 Courses (42 credits) of general education in areas of English, math, social sciences, economics, science and the humanities.
An option to add a minor in one or more of the following disciplines:

General Management
Service Management
International Business
Marketing Management
Banking and Financial Management
Managing Sustainability and Ethics

Transfer credit friendly* – UBIS welcomes students with credits earned from other colleges and universities.
*Acceptance of transfer credit is always a decision of receiving institutions. UBIS does not guarantee transferability. Any student interested in transferring UBIS credit to another university should check directly with the receiving institution.
Intakes
January 2, 2023
February 27, 2023
March 27, 2023
April 24, 2023
June 19, 2023
August 28, 2023
September 25, 2023
October 23, 2023
November 20, 2023
Course Overview
To receive a Bachelor of Business Administration, students must earn 120 US / 240 ECTS semester credit hours that are equal to 40 courses—including a capstone project.
General Education (42 US / 84 ECTS credits)
ANTH 205 Cultural Anthropology
ENGL 101 English Composition I
ENGL 295 Research & Report Writing
GNED 112 Student Success Strategies
HIST 201 Survey of World History
MATH 110 College Math: Algebra
PHIL 101 Introduction to Philosophy
PSYC 101 Principles of Psychology
COMM 101 Introduction to Communication
SCIE 112 Environmental Science
ECON 205 Microeconomics
ECON 301 Macroeconomics
PHIL 240 Ethics Introduction
MGMT 215 International Political Economy
Required Core Courses (33 US / 66 ECTS credits)
ACCT 101 Accounting I
ACCT 102 Accounting II
BUSN 110 Foundations of Business
COMP 201 Introduction to Information Technology
MGMT 303 International Business Management
MGMT 317 Organizational Diversity
MGMT 221 Contemporary Management Practices
MGMT 238 Introduction to Human Resources
MRKT 110 Principles of Marketing
MGMT 435 Strategic Management and Planning
MGMT 305 Organizational Communication
Elective Courses (Choose 45 US / 90 ECTS credits) Select 15 Courses from Electives and Minors
(one of the courses must be RESP 480)
ACCT 210 Cost Accounting
BUSN 301 International Business Law
BUSN 310 Export Procedures & Practices
MCOM 403 Issues in Global Media
MGMT 315 Managerial Accounting and Financial Analysis
MGMT 330 Purchasing and Materials Management
MGMT 411 Performance Measurement and Evaluation
MGMT 420 International Banking and Finance
MGMT 427 Operations and Project Management
MGMT 235 Global Market Competition Management
MGMT 442 Business Sustainability
MRKT 324 International Marketing
Course Overview for Optional Minor Areas
Minors
General Management
MGMT 417 Human Resource Management
MRKT 319 Principles of Marketing and Advertising
MCAP 303 Organizational and Technology of Information Management
RESP 480 Capstone
Service Management
MGMT 417 Human Resource Management
CUST 410 Service Innovation
CUST 414 Customer Service Excellence
RESP 480 Capstone
International Business
MRKT 304 Global Marketing
BFIN 309 Global Financial Management
MGMT 318 Economics of Environmental Management
RESP 480 Capstone
Marketing Management
MRKT 302 Marketing Innovations
MRKT 303 Marketing Research Management
MRKT 304 Global Marketing
RESP 480 Capstone
Banking and Financial Management
BFIN 302 Financial Markets
BFIN 303 Managing Financial Risk
BFIN 309 Global Financial Management
RESP 480 Capstone
Managing Sustainability and Ethics
MGMT 342 Business Ethics and Social Responsibility
MGMT 301 Leadership
MGMT 318 Economics of Environmental Management
RESP 480 Capstone
Duration
Bachelor degree: 4 years (full time)
Program Structure
Part-time/Full-time
Online/Blended
Tuition Fees
Course tuition (courses only):
Blended: $54,000 USD
Online: $39,500 USD
OUR ADVANTAGES
Close links with the corporate world
International Accreditation
Outstanding Selection of Professors
Online – Blended
(Transfer between formats)
International faculty and student body
84% study abroad alumni felt their studies abroad helped them build valuable skills for the job market