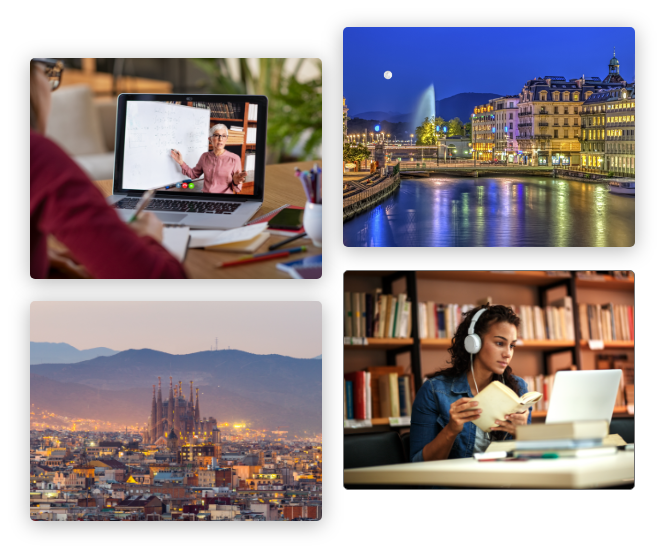 Colloquium Events and Details
As a global leader in modern education, UBIS University seeks to provide a unique forum for dialog and discussion around the challenges facing the world community. Our colloquium events provide a forum for industry leaders to share their personal expertise and insights in some of the most challenging areas of business, technology, sustainability, privacy, and a multitude of important topics.
If you're a future guest speaker or would like to know more about preparing for the colloquium event, please click here.
Does Culture and Society Affect Individual Development? With Hannah Movassagh Nekounam
Sunday November 6th, 2022 at 4:00PM London Time Zone
Vygotsky's Sociocultural Theory of Cognitive Development
Hannah has been employed as an educator since 1995, starting in therapeutic settings in the NHS, UK, then moving into mainstream and then private education. In 2010 she gained her MA in Education, and was motivated by the impact of collaborative learning on pedagogy, and responding to both local needs and those resulting from globalisation. Hannah will share insights driven from her work and education in Oxfordshire, and later in both the North and South of the UK, then experience as an international teacher in Central Asia.
Previous Colloquium Events
9/5/2022
Post Pandemic Social Developments – Three Future Scenarios in the U.S.
With Dr. Neil Gilbert
8/14/2022
Lithium – Mining and Investment Strategies
With Dr. Lawrence Ajay – CEO of Life Light Engery
7/24/2022
Strengthening the Financial Sector: The Case of the Democratic Republic of Congo
Charles E. Kilbourne, Managing Director and Secretary of the Corporation of FSVC.
6/19/2022
Intercultural Competence & Leadership in the Globalized World
5/8/2022
Future Trends and Strategies in Digital Marketing – Michael Norris – CMO of YouTech
5/1/2022
The Energy Industry: From Values to sustainable Solutions – Emil Ismailzade
4/24/2022
Business Sustainability: Preparing for Potential Business Crisis – Dr. Mark DeFusco
4/3/2022
Zero Carbon Pathways for Companies
Dr Bettina Wittneben, Associate Scholar at Said Business School, Oxford University
3/27/2022
Global Trends in Privacy
Manisha Aurora, Sr. Legal Advisor, Privacy, Security, Technology Transactions
3/20/2022
Gender Roles – Career vs. Motherhood
Prof Neil Gilbert, UoC Berkeley; Cathi Raffaeli and Dr Shanthi Konkoth – UBIS leadership; Diana Othieno, UBIS Candidate
3/13/2022
Celebrating Remarkable Women of the World
Patricia Cherfan, CEO and Editor in Chief; Ingrid Persaud, awards winning book writer
3/6/2022
Macedonia and Vietnam – Cultural Heritage and Business Etiquette
Dr Marija Lazarev Zivanovic, Accreditation Specialist, Prof Tri, University of Economics of Ho Chi Minh City
2/20/2022
Higher education as a Soft Power Tool in International Relations
Richard Everitt, Head of Development, Imperial College London
2/13/2022
The Fall of 'Apartness' Laws and Entrepreneurship in Post – Apartheid South Africa
Alan Davies, London Six Form College, London and Shane Capazorio, UBIS Candidate
2/6/2022
Japan: Lost Decades and Future Prospects

Steve King, Cambridge Assessment Co., Edward Yagi, UBIS DBA Candidate
1/30/2022
Liberalism and the New Left
Martin Scalway, Book-Author, political observer, London; Marita Kassis, UBIS Candidate
1/23/2022
Biden – a year in. How has he done, what challenges does he face?
Alan Davies, London Six Form College, London