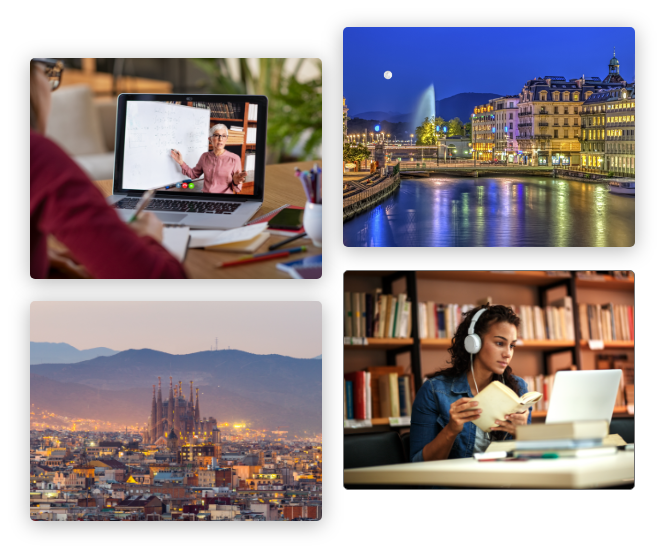 MBA to DBA Bridge Program
UBIS MBA graduates who want to further their aspirations can now continue their studies at the doctoral level with the MBA to DBA Bridge Track. This MBA Bridge program was designed exclusively so UBIS MBA graduates can apply three of their MBA courses to the DBA bridge track—allowing them to take 11 courses and one seminar course to complete the DBA program. To qualify for this track, you must first complete the UBIS MBA program in full.
Program Objectives
Upon completion of the program, graduates will be able to identify problems related to global businesses and to respond artfully to these challenges. In addition, graduates will be empowered with the knowledge and skills required to work as leaders in global business organizations, nongovernmental organizations, and international entities.
MBA to DBA – Is this program right for me?
| I am… | The right program for me is… |
| --- | --- |
| A graduate of the UBIS MBA program and have less than 7 years of executive level professional experience. | MBA+DBA Bridge |
| A graduate of the UBIS MBA program and have more than 7 years of executive level professional experience. | The Executive DBA Program. |
| A candidate that graduated with an MBA from another institution and have over 7 years of executive level professional experience. | The Executive DBA Program. |
| A candidate that graduated with a graduate degree (not an MBA) from another institution. | The DBA Program. |
Graduates of the Master of Business Administration can:
Formulate evidence-based business solutions founded on stakeholder needs and interests.

Exercise principles of ethical leadership in a variety of diverse, professional settings.

Develop decisions and managerial actions that enhance organizational success through effective communication and teamwork.

Apply advanced knowledge in the legal, theoretical, and practical aspects of operating a business.

Graduates of the Doctorate of Business Administration can:
Demonstrate fluency within the chosen discipline
Demonstrate support of current and emerging business theory, practice, and influences that support business administration strategy and organizational missions in changing environments.
Integrate appropriate principles and research methodologies frequently used in business research to solve current business administration problems.
Formulate effective solutions to real-world problems in business administration that improve the effectiveness of organizations in support of organizational missions.
MBA Program Overview
Online and on-campus course modalities to accommodate busy schedules and preferred learning styles.
Frequent and flexible start dates – three 16-week semesters per year and offers students 9 entry dates per year.

15 Total Courses – 45 US/90 ECTS semester credit hours.

Includes 5 Concentration Courses (15 US/30 ECTS credits) – MBA students must choose one or more of the following concentrations:
Management
Marketing
Finance and Banking
Digital Entrepreneurship and Growth
International Business
Business Sustainability and Ethics
Information Technology Management
DBA Program Overview
Online course delivery designed with high flexibility for industry professionals.
Designed to be completed in 3 years including dissertation.

Total of 60 credits US, consisting of 15 courses including dissertation defense.
Three MBA to DBA Transfer Courses (DBA 703, DBA 705, and DBA 706) – total of 15 US/30 ETCS credits.
Five 700 level courses – total of 25 US/50 ETCS credits.
One 700 level seminar course – total of 2 US/4 ETCS credits.
Six 800 level courses – total of 18US/36 ETCS credits.
Personalized coaching and guidance by doctoral faculty.

Flexibility to focus on your desired research topic as long as the research is connected to management.

Research and Dissertation Overview
The UBIS DBA research and thesis portion of the program consists primarily of individual research, under the supervision of qualified professors who provide a broad range of expertise as well as an international reputation.
At UBIS, every selected student will receive rigorous and tailor-made coaching by our doctoral faculty. The program can cover traditional research topics in fields such as management, finance, marketing, organizational behavior, as well as non-traditional topics depending on students' needs. Virtually all topics are accepted as long as the research is connected to management.
Each module will contribute to the research for your Dissertation. Moreover, our very practical DBA is based on skills rather than merely research like other Doctorate programs. We will also help you perfect your public speaking abilities which we know is very important for any professional career.
During the program you will be guided by a professor with a deep understanding of the field you will be studying but at the end of the day the expert on the particular topic will be you.
Program Duration
MBA – 1 to 2 years
DBA – 3 to 4 years
MBA to DBA Bridge = 4 to 6 years
MBA to DBA Program Overview
MBA Courses
DBA Courses

ECO 602 Managerial Economics
FIN 608 Financial Management Theory and Practice
MCO 608 Managing a Contemporary Business Information System
MGT 621 Introduction to Global Business
MGT 616 Strategic Management, Competitiveness & Globalization
MGT 607 Business Analytics, Data Analysis & Decision Making
MGT 609 Operations, Supply Chain and Project Management
MGT 620 Strategic Human Resources Management
MKT 606 Marketing Strategy
MGT 642 Business Sustainability, Ethics and Social Responsibility

DBA 701 Business & Management Research at the doctoral level
DBA 702 Literature review methods and legitimate resources
DBA 703 Trends in Strategic Management (Transfer from MBA)
DBA 705 Trends in Leadership (Transfer from MBA)
DBA 706 Trends in Sustainability and Responsibility (Transfer from MBA)
DBA 707 Case Study Research
DBA 708 Advanced Qualitative Techniques
DBA 709 Advanced Quantitative Techniques
DBA710 Doctoral Candidacy Seminar
DBA 800 Doctoral Research I: Proposal Development
DBA 801 Doctoral Research II: Introduction & Literature Review
DBA 802 Doctoral Research III: Methodology
DBA 803 Doctoral Research IV: Results and Findings
DBA 804 Doctoral Research V: Discussion and Conclusion
DBA 810 Dissertation Defense and Publication
Tuition Fees
Tuition for DBA Only = $34,500 USD*
*This rate requires completion of the MBA 45 credit hour program at UBIS prior to entering the DBA track. Standard MBA 45 credit hour program tuition is $21,000. 
Program Structure
Flexible online courses to accommodate the personal and work schedules of business professionals.
Degree Level
Masters of Business Administration (MBA) to Doctor of Business Administration (DBA)
OUR ADVANTAGES
Close links with the corporate world
International Accreditation
Outstanding Selection of Professors
Online – Blended
(Transfer between formats)
International faculty and student body
84% study abroad alumni felt their studies abroad helped them build valuable skills for the job market
Transfer your credits
UBIS welcomes students who wish to continue their studies by transferring to the university. UBIS has three 16-week semesters per year and offers students 9 entry dates per year-more flexibility in starting your studies.
Acceptance of transfer credit is always a decision of receiving institutions. UBIS does not guarantee transferability. Any student interested in transferring UBIS credit to another university should check directly with the receiving institution.