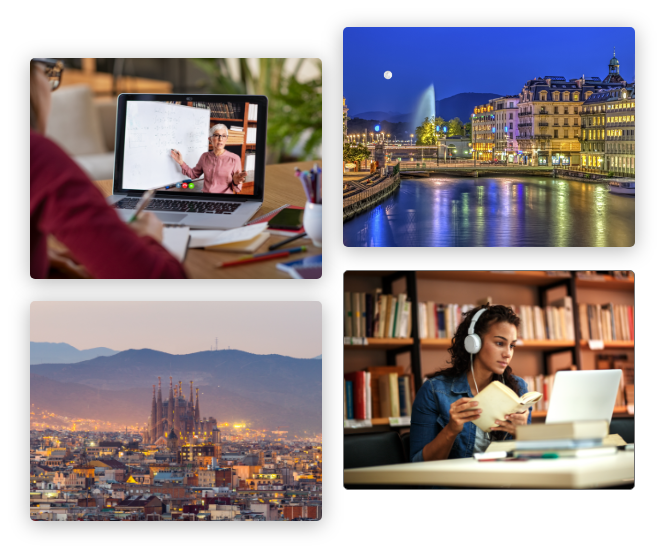 Doctorate of Business Administration
The Doctorate of Business Administration (DBA) degree is to prepare scholars and professionals to meet the needs of the fast-changing business world, develop critical thinking skills necessary to design and implement advanced business practices aimed at tackling the challenges of a complex and global economy, to further applied research with strong business impact, to devise new business practices and models. We also provide hybrid DBA programs for helping students learn our courses online.
Four Pillars of the UBIS DBA Program
Customizable Dissertation Topics and Personalized Advising
UBIS doctoral students are driven to create impact in their community. A passion to lead as agents of positive change. We understand that these challenges are diverse, complex and important. UBIS works with each doctoral candidate to refine, focus, and craft a unique dissertation. One that is academically and professionally sound while equally illustrating the unique focus and passion of the doctoral candidate.
Hybrid Education – Online and Abroad
UBIS understands that a balanced educational approach is critical to doctoral student success. One that provides the flexibility of highly engaging online learning opportunities, with customizable pacing. Whether you're a career-focused professional seeking a path to enhance your professional brand or focused on immersing yourself in the academic experience to obtain industry leading expertise in a field, UBIS has a path for you. For those seeking to expand their worldview with enhanced global knowledge and experience, UBIS offers doctoral candidates the opportunity to attend two immersive study abroad excursions each year.
Publication-Focused Research
UBIS is focused on helping doctoral candidates build their personal and professional brand. We provide opportunities to expand your knowledge and your influence. Our DBA program includes Faculty Symposiums where doctoral students have the opportunity to present their research in progress and shared publication channels. DBA candidates may also participate in Colloquium Webinars with Keynote Speakers. Select DBA candidates and graduates may be asked to present as a Keynote speaker at a UBIS event.
Make an Impact – Share Your Knowledge
Being an agent for positive change requires a doctoral graduate to understand the best way to communicate, educate, and engage others. UBIS offers doctoral students a seminar series on Pedagogy and Teaching Techniques. These seminars help candidates hone their professional speaking and traditional academic communication skills. Candidates with a desire to engage in a more formal faculty track with UBIS may be awarded the opportunity.
Program Objectives
Upon completion of the Doctorate of Business Administration program, graduates will be able to identify problems related to global businesses and to respond artfully to these challenges. In addition, graduates will be empowered with the knowledge and skills required to work as leaders in U.S. business organizations, nongovernmental organizations, and international entities.
Graduates of the Doctorate of Business Administration can:
Demonstrate fluency within the chosen discipline
Demonstrate support of current and emerging business theory, practice, and influences that support business administration strategy and organizational missions in changing environments
Integrate appropriate principles and research methodologies frequently used in business research to solve current business administration problems
Formulate effective solutions to real-world problems in business administration that improve the effectiveness of organizations in support of organizational missions
Program Overview
Online business doctoral programs delivery designed with high flexibility for industry professionals.
Designed to be completed in 3 years including dissertation.
Total of 60 credits US, consisting of 15 courses including dissertation defense.

Nine 700 level courses – total of 42 US/84 ETCS credits.
Six 800 level courses – total of 18US/36 ETCS credits.

Personalized coaching and guidance by doctoral faculty.
Flexibility to focus on your desired research topic as long as the research is connected to management.
Research and Dissertation Overview
The UBIS DBA research and thesis portion of the program consists primarily of individual research, under the supervision of qualified professors who provide a broad range of expertise as well as an international reputation.
At UBIS, every selected student will receive rigorous and tailor-made coaching by our doctoral faculty.  The program can cover traditional research topics in fields such as management, finance, marketing, organizational behavior, as well as non-traditional topics depending on students' needs. Virtually all topics are accepted as long as the research is connected to management.
Each module will contribute to the research for your Dissertation. Moreover, our very practical DBA is based on skills rather than merely research like other Doctorate programs. We will also help you perfect your public speaking abilities which we know is very important for any professional career.
During the program you will be guided by a professor with a deep understanding of the field you will be studying but at the end of the day the expert on the particular topic will be you.
DBA track options for Executive and All But Dissertation candidates are available. Learn more about our Executive DBA or All But Dissertation DBA Track options.
Course Overview
DBA Required Courses
DBA 701 Business & Management Research at the doctoral level 5 US/10 ETCS Credits
DBA 702 Literature review methods and legitimate resources 5 US/10 ETCS Credits
DBA 703 Trends in Strategic Management 5 US/10 ETCS Credits
DBA 705 Trends in Leadership 5 US/10 ETCS Credits
DBA 706 Trends in Sustainability and Responsibility 5 US/10 ETCS Credits
DBA 707 Case Study Research 5 US/10 ETCS Credits
DBA 708 Advanced Qualitative Techniques 5 US/10 ETCS Credits
DBA 709 Advanced Quantitative Techniques 5 US/10 ETCS Credits
DBA710 Doctoral Candidacy Seminar 2 US/4 ETCS Credits
DBA 800 Doctoral Research I: Proposal Development 3 US/6 ETCS Credits
DBA 801 Doctoral Research II: Introduction & Literature Review 3 US/6 ETCS Credits
DBA 802 Doctoral Research III: Methodology 3 US/6 ETCS Credits
DBA 803 Doctoral Research IV: Results and Findings 3 US/6 ETCS Credits
DBA 804 Doctoral Research V: Discussion and Conclusion 3 US/6 ETCS Credits
DBA 810 Dissertation Defense and Publication 3 US/6 ETCS Credits
Language
Courses Taught in English
Program Structure
Flexible online courses to accommodate the personal and work schedules of business professionals.
Degree Level
Doctor of Business Administration (DBA)
OUR ADVANTAGES
Close links with the corporate world
International Accreditation
Outstanding Selection of Professors
Online – Blended
(Transfer between formats)
International faculty and student body
84% study abroad alumni felt their studies abroad helped them build valuable skills for the job market
Transfer your credits
UBIS welcomes students who wish to continue their studies by transferring to the university. UBIS has three 16-week semesters per year and offers students 9 entry dates per year-more flexibility in starting your studies.
Acceptance of transfer credit is always a decision of receiving institutions. UBIS does not guarantee transferability. Any student interested in transferring UBIS credit to another university should check directly with the receiving institution.