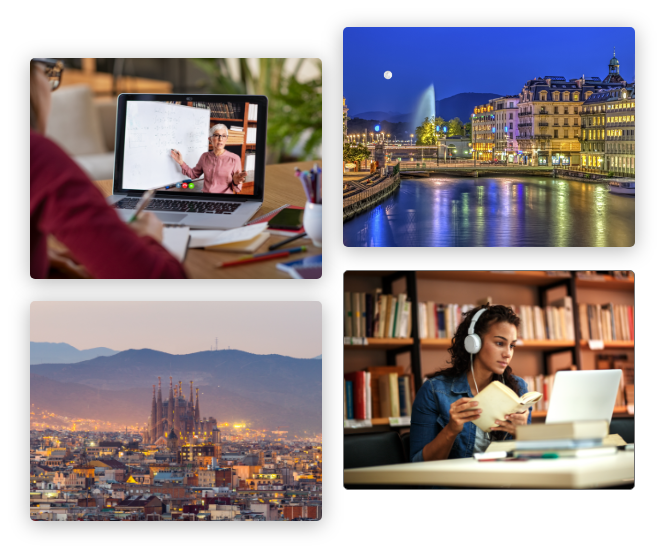 Master's in International Relations (MA-IR)
The UBIS Master of Arts in International Relations (MAIR) program is based on current educational trends in business education. This program was developed to meet demand of the job market, propel careers of our alumni, and contribute to professional knowledge and competence in the field.
Master's in International Relations Program Objectives
The Master of Arts in International Relations provides both broad vision and practical skills. This Program helps graduates to develop and manage immediate needs without losing sight of the larger context. With this dual capacity, the Master of Arts in International Relations graduates will be ready to work as leaders, directors, consultants and professionals in international organizations, national public administrations, private for-profit companies, as well as civil society, nonprofit organizations, foundations, and associations.
Graduates of the Master of Arts in International Relations can:
Incorporate foundational global and intercultural knowledge, theories, research methods, and approaches to investigate global issues.
Frame and evaluate global challenges in international political, economic, security, or diplomatic areas in the selected region or concentration, drawing on perspectives and methods from diverse fields of study.
Apply the advanced knowledge gained in the field of global studies to a practical challenge, articulate in writing the insights gained from this experience, and assess approaches, scholarly debates, or standards for professional performance applicable to the challenge.
Assess and develop a position on a contemporary social issue from a socio-historical perspective and from multiple viewpoints of the stakeholders.
Synthesize and transfer learning to new, complex situations within masters in international relations online course work or beyond the classroom.
MA in international relations online has 15 Total Courses – 45 US/90 ECTS semester credit hours including a research project.
MA-IR Degree Program Overview
Online and on-campus course modalities to accommodate busy schedules and preferred learning styles.
Frequent and flexible start dates – three 16-week semesters per year and offers students 9 entry dates per year.
15 Total Courses – 45 US/90 ECTS semester credit hours including a research project.
Intakes
January 3, 2022
February 28, 2022
March 28, 2022
April 25, 2022
June 20, 2022
August 29, 2022
September 26, 2022
October 24, 2022
November 21, 2022
Course Overview
MA-IR Core Courses
ECO601 International Economics
HIS 602 International Politics: Power and Purpose in Global Affairs
INR 601 International Relations Theory
INR 612 World Politics Trend and Transformation
INR 614 Global Sociology and Its Impact
LAW 601 International Law
MKT 606 Marketing Strategy
MGT 609 Operations, Supply Chain and Project Management
MGT 616 Strategic Management, Competitiveness & Globalization
MGT 613 Multinational Management
MGT 620 Strategic Human Resources Management
MGT 621 Introduction to Global Business
MGT 642 Business Sustainability, Ethics and Social Responsibility
RES 601 Research Methodology
RES 602 Thesis Defense
Program Structure
Online/Blended
Attendance
Part-time/Full-time
Tuition Fees
Online – $21,000 USD
Ground/Blended – $25,000 USD
OUR ADVANTAGES
Close links with the corporate world
International Accreditation
Outstanding Selection of Professors
Online – Blended
(Transfer between formats)
International faculty and student body
84% study abroad alumni felt their studies abroad helped them build valuable skills for the job market
Transfer your credits
UBIS welcomes students who wish to continue their studies by transferring to the university. UBIS has three 16-week semesters per year and offers students 9 entry dates per year-more flexibility in starting your studies.
Acceptance of transfer credit is always a decision of receiving institutions. UBIS does not guarantee transferability. Any student interested in transferring UBIS credit to another university should check directly with the receiving institution.