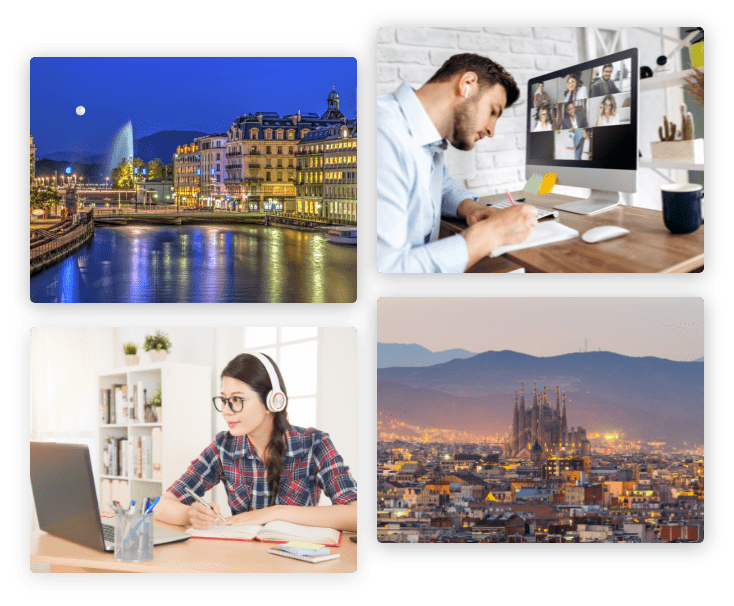 Accelerated Master of Business Administration (MBA)
The Accelerated Master of Business Administration is your best choice for an affordable, globally focused and customizable MBA program, included optional highly immersive study aboard opportunities. Our 36-credit hour MBA can be completed in one year, offering you:
3 different concentration options.
A research track option.
Optional MBA+ study abroad opportunities twice annually.
In the increasingly competitive international business career arena, this unique educational experience of accelerated MBA programs online provides experiences, skills and knowledge that stand out. Differentiate yourself, your resume, and your professional brand with a program that designed to help you grow academically with outstanding courses and faculty, while you also grow personally with immersive multi-cultural study abroad opportunities.
Contact our MBA advising team now and they can help you customize your MBA program pathway to fit your time, cost, and academic goals.
One Year MBA Program Objectives
The One Year Accelerated MBA program provides an applied business education in a multi-cultural learning environment. This fast track MBA online program improves decision making capabilities of the students by providing a functional business foundation and enhancing their analytical, communication, and technological skills. Candidates for the MBA program may elect to participate in one or more study abroad opportunities in Geneva, Barcelona, London, Strasbourg and New York by selecting a concentration in Management, Finance and Banking, or Innovation & Entrepreneurship.
Core Program Overview, Concentrations and Research Track Paths
The Accelerated MBA programs in U.S.A. consists consists of 12 total courses of 36 US/72ECTS credits. 9 core courses with 3 concentration or research track courses.
9 Core Accelerated MBA Courses
Global Business

Human Resources

Business Sustainability

Strategic Management

Operations & Supply Chain Management

Business Information Systems

Financial Management

Marketing Strategy

Business Analytics
In addition to the nine core MBA courses, an MBA candidate must choose one of the three concentration options, or the research track option and complete an additional three courses.
MBA Tuition by Location
Full Online = $16,800.00 USD
Hybrid = Not Available in Geneva or Barcelona
National American University – USA Accreditation Track
Concentration in Management
Executive Leadership
Managing Organizational Diversity
CAPSTONE – CAP601
Concentration in Finance and Banking
Corporate Finance
Financial Markets and Institutions
CAPSTONE – CAP601
Concentration in Innovation & Entrepreneurship
Executive Leadership
Business Project Plan 1
Business Project Plan 2
Research Track Option
Research Methodology
Thesis Supervision
Thesis Defense
MBA+Study Abroad Options
MBA+ provides UBIS students the option to enhance their MBA program with a study abroad immersion events. These MBA+ events are held bi-annually and are completely optional.
MBA+ events run twice per year and rotate between five exciting international location.
Barcelona, Spain
Geneva, Switzerland
London, England
Strasbourg, France
New York City, United States
Each MBA+ Study Abroad event lasts approximately 7-10 days, with guided tours, discussions with industry leaders, cultural experiences, and exposure to learning opportunities unique to each location.
One Year MBA Track
Program Tuition = $16,800 USD
MBA+One Study Abroad Excursion
MBA+ Program Tuition with One Global Abroad Experience = $18,800*
MBA+Two Study Abroad Excursion
MBA+ Program Tuition with Two Global Abroad Experience = $20,800*
Intakes
January 2, 2023
February 27, 2023
March 27, 2023
April 24, 2023
June 19, 2023
August 28, 2023
September 25, 2023
October 23, 2023
November 20, 2023
Attendance
Part-time/Full-time
Duration
Can be completed in as few as 12 months. Candidates may extend the program based on personal preference within the confines of UBIS time to completion policy.
Program Structure
Online/Blended
Tuition Fees
Online: $16,800 USD
With Study Abroad MBA+:
1 Excursion = $18,800 estimated*
2 Excursions = $20,800 estimated*
*Cost of the event is an estimate. Each of the four destinations may have a variable cost in addition to the standard tuition. Total cost will be impacted based up each participant's visa requirements, travel preferences, boarding, meals and extra-curricular activities they elect to engage in. 
OUR ADVANTAGES
Close links with the corporate world
International Accreditation
Outstanding Selection of Professors
Online – Blended
(Transfer between formats)
International faculty and student body
84% study abroad alumni felt their studies abroad helped them build valuable skills for the job market
Transfer your credits
UBIS welcomes students who wish to continue their studies by transferring to the university. UBIS has three 16-week semesters per year and offers students 9 entry dates per year-more flexibility in starting your studies.
Acceptance of transfer credit is always a decision of receiving institutions. UBIS does not guarantee transferability. Any student interested in transferring UBIS credit to another university should check directly with the receiving institution.