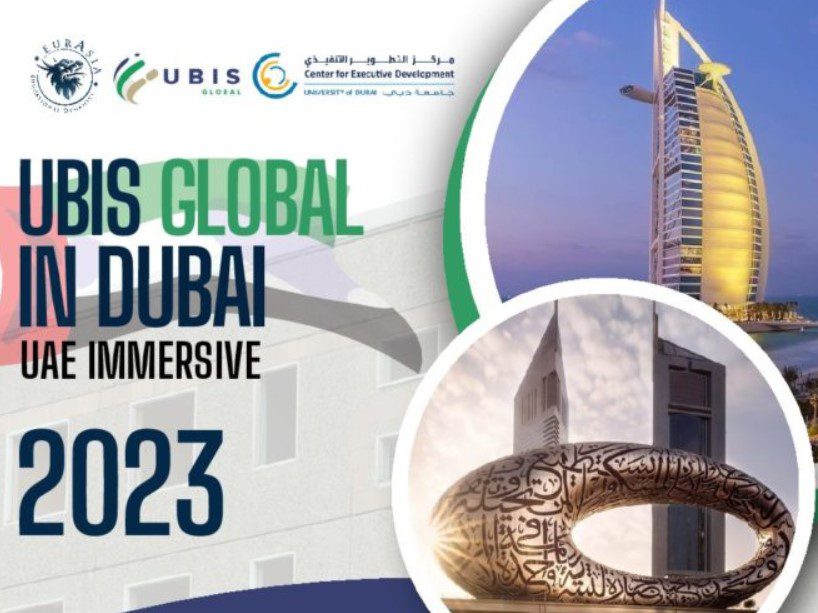 Are you ready for an immersive adventure through the United Arab Emirates' astounding economic evolution?
If you're a UBIS DBA student with an insatiable thirst for knowledge and a burning passion for business, save the date for the most thrilling short-term experience of 2023 – "Dubai 2023"!
When: November 25th, 2023, to December 1st, 2023
Where: Hosted by the Center for Executive Development, The University of Dubai
Learn More and UBIS Students Can Register Here – UBIS Immersive Experiences – Short-Term Residential Opportunities (ubisglobal.com)
This immersive opportunity is a result of a powerful collaboration between UBIS and its partner, Eurasia Educational Dynamics. It's your chance to plunge deep into the UAE's thriving economy, grasp its promising future over the next five years, and unearth exclusive prospects for foreign investors. Let's dive into what this remarkable journey entails and why it's an unmissable opportunity.
Journey Through UAE's Remarkable Growth
The United Arab Emirates (UAE) has always been a captivating destination for business enthusiasts. Born in 1971, the UAE rapidly evolved into a federation of monarchies, with Dubai leading the way. While the nation initially relied heavily on oil production, fast forward to 2023, and you'll witness a radically different landscape.
Here's a glimpse of the UAE's economic landscape:
1. Strategic Location: Situated at the crossroads of Europe, Asia, and Africa, the UAE is a global trade and commerce hub. Understanding how it leverages this strategic location is crucial for anyone interested in international business.
2. Sovereign Wealth Funds: The UAE boasts substantial sovereign wealth funds, vital for economic diversification. This immersive experience unveils how these funds are managed and invested for sustainable growth.
3. Government Spending on Infrastructure: Consistent government investments in infrastructure development have been a cornerstone of the UAE's economic strategy. Prepare to explore the awe-inspiring projects that have propelled the nation's growth.
4. Progressive Economic Policies: The UAE has embraced progressive liberal economic policies and warmly welcomes Foreign Direct Investment (FDI). Discover how these policies create a business-friendly environment, attracting investors from across the globe.
5. Non-Oil Sector Growth: In 2023, the UAE's non-oil sector is poised for robust growth at 4.8 percent. This growth is driven by strong domestic demand, especially in sectors like tourism, real estate, construction, transportation, and manufacturing. Delve into these industries to grasp their dynamics and investment potential.
What to Expect During Dubai 2023
This immersive experience promises a comprehensive exploration of the UAE's economy and business landscape. Here are the highlights:
1. Expert Sessions: Engage with industry experts and academics offering invaluable insights into the UAE's economic strategies, investment opportunities, and future prospects.
2. Site Visits: Immerse yourself in the UAE's vibrant business environment through site visits to key industries and projects. Witness firsthand the transformations taking place in sectors like real estate, manufacturing, and transportation.
3. Networking Opportunities: Connect with fellow UBIS DBA students, professionals, and business leaders from the UAE. Networking is an essential part of this immersive journey, providing ample opportunities to forge valuable connections.
4. Cultural Exploration: Experience the rich culture and heritage of the UAE, from traditional souks to modern architectural wonders. A holistic experience includes an appreciation of the local culture.
Why Attend Dubai 2023?
As a UBIS DBA student, Dubai 2023 offers a unique opportunity to deeply comprehend a dynamic and rapidly evolving economy. The UAE's strategic significance, progressive policies, and growth prospects make it a compelling case study for any business scholar.
Furthermore, this immersive experience perfectly aligns with UBIS's commitment to delivering practical, real-world insights to its students. It's not just about learning within the classroom; it's about immersing yourself in the world of business.
Don't let this extraordinary opportunity slip through your grasp. Mark your calendars, prepare to broaden your horizons, and embark on an unforgettable journey through Dubai 2023!
For more information and registration details, stay tuned for updates from UBIS. Dubai 2023 is your gateway to understanding the UAE's economic evolution and its role on the global stage. We can't wait to see you there!
Comments are closed.