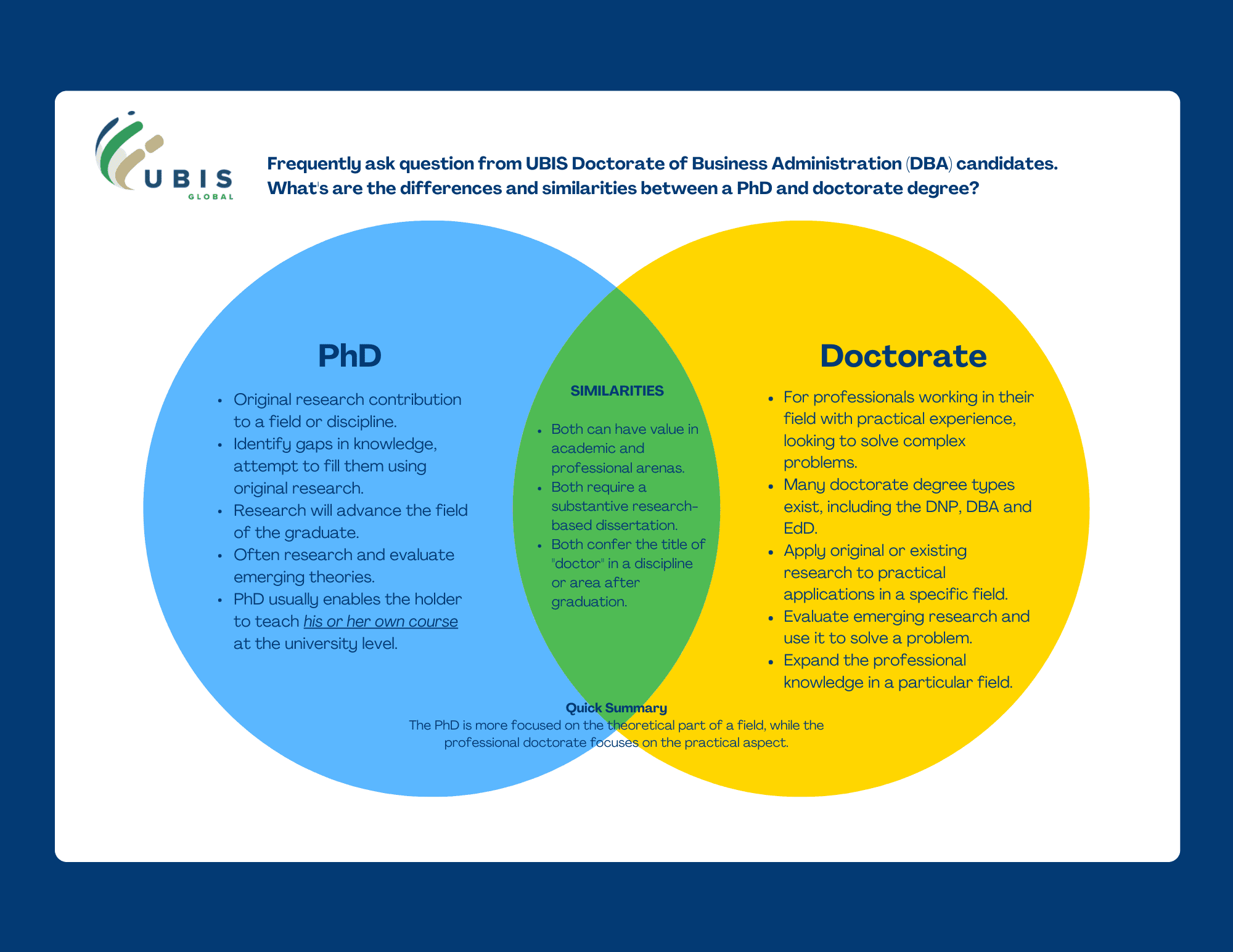 Introduction: In today's rapidly evolving business landscape, professionals seek advanced degrees that not only enhance their knowledge but also provide practical skills for real-world challenges. Enter the University of Business Innovation and Sustainability (UBIS), a pioneering institution that offers professional doctoral degrees focused on business innovation and sustainability. In this blog, we will explore the distinction between a PhD and a professional doctoral degree, and delve into how UBIS empowers working professionals to excel in their careers by combining academic rigor with practical application.
UBIS: Where Innovation Meets Sustainability: UBIS has established itself as a leading university, recognized for its specialized programs in business innovation and sustainability. Unlike traditional PhD programs, which predominantly emphasize academic research and contributions to knowledge, UBIS's professional doctoral degrees bridge the gap between theory and practice. This is where the difference between doctorate and PhD program learning exists. Also, this unique approach equips students with the necessary skills to address real-world challenges in their respective fields.
Blending Academia with Practical Application: UBIS's professional doctoral programs strike a balance between academic rigor and practical focus. Through a comprehensive curriculum, students gain a deep understanding of business innovation and sustainability concepts while learning how to apply these theories to tangible situations. The university's faculty comprises experienced professionals who bring a wealth of practical knowledge into the classroom, ensuring that students receive relevant and up-to-date insights.
Empowering Professionals: UBIS's Practical Component: One standout feature of UBIS's professional doctoral degrees is the incorporation of a practical component. Students are tasked with addressing specific problems or challenges faced by professionals within their field. This experiential learning opportunity allows students to showcase their expertise and contribute to the advancement of their industry. By completing these practical projects, students not only gain valuable experience but also create a tangible impact on their chosen field.
The UBIS Experience: Collaboration and Applied Research: UBIS places a strong emphasis on collaboration and applied research. By partnering with industry leaders and organizations, the university ensures that its programs remain relevant and responsive to real-world demands. UBIS students have the opportunity to engage with industry experts, benefit from mentorship, and participate in hands-on learning experiences. This collaborative approach enriches their learning journey, equipping them with the skills necessary to excel in their careers upon graduation.
Unlocking Professional Success: While choosing for doctoral degree vs PhD, remember UBIS's professional doctoral degrees provide working professionals with a powerful toolkit for success. By combining academic rigor, practical application, and collaboration with industry partners, UBIS ensures that its graduates are well-prepared to navigate the complexities of the business world. Armed with comprehensive knowledge, advanced skills, and the ability to think critically, UBIS graduates become leaders in their respective fields, driving innovation, and sustainability forward.
Conclusion: In a world where practical expertise and academic knowledge go hand in hand, UBIS stands at the forefront, offering professional doctoral degrees that empower working professionals. Between doctorate vs professional degree, doctorate degree gives you advanced academic knowledge, while professional degree focuses on preparing individuals for specific careers. By seamlessly integrating business innovation and sustainability concepts, UBIS prepares its students to tackle real-world challenges head-on. With UBIS as your academic partner, you can unlock your professional potential, make a tangible impact in your industry, and embrace a future where innovation and sustainability are the driving forces of success.
Comments are closed.