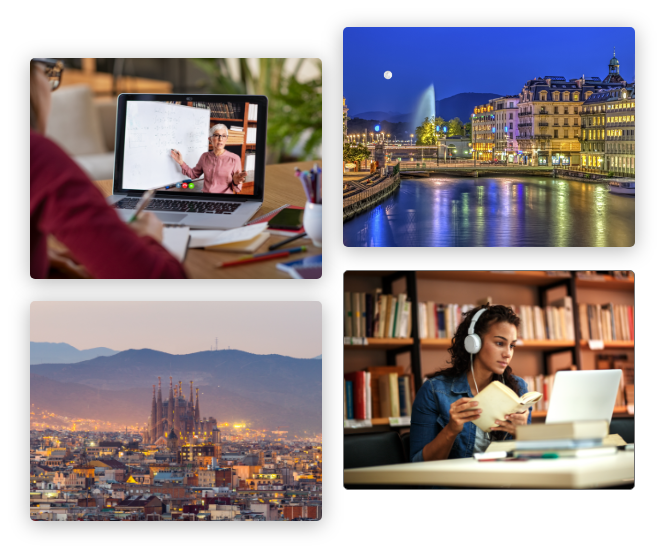 MSIT Degree: Master of Science in Information Technology
The Master of Science in Information Technology (MSIT) degree program provides a comprehensive perspective to the field of Information Technology. It is designed to develop the student's skills to conceptualize, organize and undertake information technology projects of highly competitive value. These skills constitute the necessary foundations for solving practical problems involving information technology that arise in business, governmental, and non-profit organizations. The curriculum provides an array of technical and management knowledge required to properly implement and manage IT solutions in such areas as digital marketing, data science, cybersecurity, and modern applications development.
Graduates of the Master of Science in Information Technology are able to:
Develop the fundamental understanding of the technical foundation of information systems to support day-to-day business operations.
Develop skills to effectively deploy information technology assets in support of business processes, security, or business competitive advantage.
Apply technical critical thinking and analytic competencies to complex information systems problems.
Analyze, design, and develop information technology solutions under specific problem situations such as marketing, analytics, and internal controls to allow for implementation of strategic initiatives that incorporate current or emerging technologies.
Program Overview
Online modality to accommodate busy schedules and preferred learning styles.
Frequent and flexible start dates – three 16-week semesters per year and offers students 9 entry dates per year.
15 Total Courses – 45 US/90 ECTS semester credit hours.
Includes 5 Concentration Courses (15 US/30 ECTS credits) – MS-IT students must choose one or more of the following concentrations:

Digital Marketing
Data Science
Cybersecurity
Web/Mobile Design and Development
IT Management and Control
Project Management
An executive version of the MS-IT is available for individuals with sufficient academic or professional backgrounds in the field. Click here to learn more.
Intakes
January 2, 2023
February 27, 2023
March 27, 2023
April 24, 2023
June 19, 2023
August 28, 2023
September 25, 2023
October 23, 2023
November 20, 2023
Course Overview
Students must take 4 foundation courses, 6 core courses, and must select at least once concentration consisting of 5 courses for a total of 15 courses.
Foundation Courses
MCO 608 Managing a Contemporary Business Information System
MIT 604 Database Modeling and Design
MIT 606 Database Manipulation for Business Solutions
MIT 608 Programming for Business Analysis
Core Courses
MIT 610 Systems Analysis and Development
MIT 612 Business Data Communications and Computer Networks
MIT 614 Fundamentals of Business Intelligence
MGT 609 Operations, Supply Chain and Project Management
MIT 616 Information Security, Privacy and Compliance
MIT 618 Information Technology Strategy
Concentration Area Courses
DIGITAL MARKETING
MKT 605 Digital Marketing
MIT 610 Electronic Commerce
MIT 622 Content Marketing
MIT 624 Social Media Marketing
MIT 626 Internet Analytics
DATA SCIENCE
MGT 607 Business Analytics, Data Analysis and Decision Making
MIT 630 Programming for Data Science
MIT 632 Predictive Analytics
MIT 634 Data Visualization
MIT 636 Advanced Data Systems
CYBERSECURITY
MIT 640 Guide to Networks
MIT 642 Network Security Fundamentals I
MIT 644 Network Security Fundamentals II
MIT 646 Cybersecurity Analyst I
MIT 648 Cybersecurity Analyst II
WEB/MOBILE DESIGN AND DEVELOPMENT
MIT 650 Front End Web Development
MIT 652 Back End Web Development
MIT 654 Developing Mobile App for Android
MIT 656 Cross Platform Mobile and Web Apps Development
MIT 658 Advanced Front End Web Development
INFORMATION TECHNOLOGY MANAGEMENT AND CONTROL
MIT 660 Information Technology Control and Audit
MIT 662 Information Technology Investment
MGT 608 Management of Technology and Innovation
MGT 641 Ethics in Information Technology
MIT 664 The Secure IT Organization
PROJECT MANAGEMENT
PMT 631 PM Technology 3 Credits
PMT 632 Operations Management 3 Credits
PMT 633 Contemporary Project Management 3 Credits
PMT 634 Project Management Professional Bootcamp 3 Credits
CAP 601 Capstone 3 Credits
Attendance
Part-time/Full-time
OUR ADVANTAGES
Close links with the corporate world
International Accreditation
Outstanding Selection of Professors
Online – Blended
(Transfer between formats)
International faculty and student body
84% study abroad alumni felt their studies abroad helped them build valuable skills for the job market
Transfer your credits
UBIS welcomes students who wish to continue their studies by transferring to the university. UBIS has three 16-week semesters per year and offers students 9 entry dates per year-more flexibility in starting your studies.
Acceptance of transfer credit is always a decision of receiving institutions. UBIS does not guarantee transferability. Any student interested in transferring UBIS credit to another university should check directly with the receiving institution.