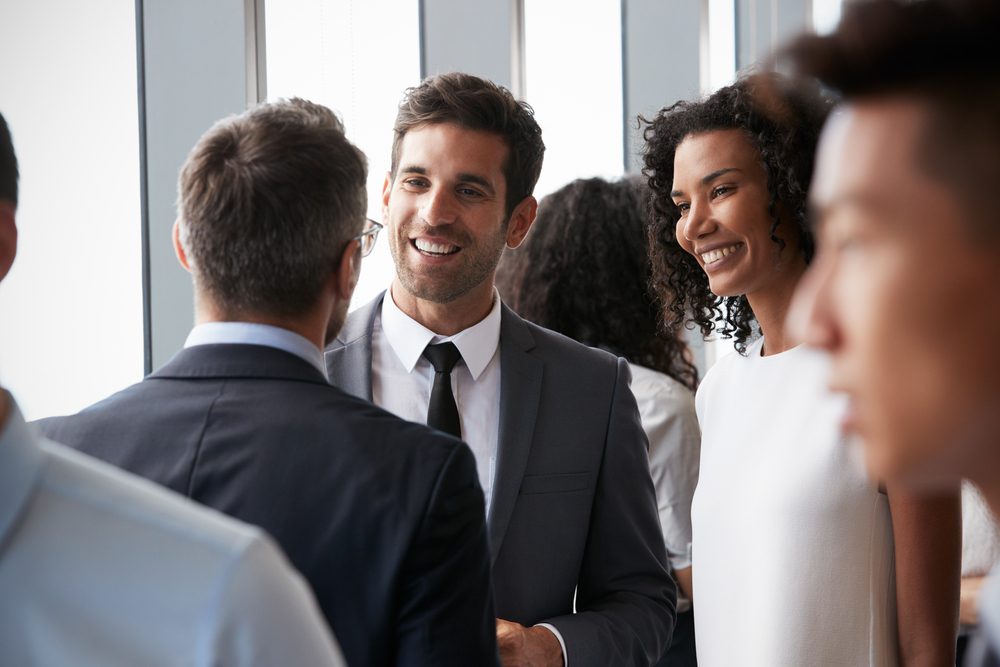 UBIS – Networking Across the World
Did you know that 70% of hires are the result of good networking?  Today, one of the secrets to professional progress and success consists of having a good network of contacts.  In a world where job-creation difficulties in the labor market have been increasing, the ability to create a strong online network of contacts can be decisive when it comes to finding a job. We must consider the large volume of applications received by companies and recruitment consultants for a job offer, and that is why it is essential to meet people who can recommend and advise us.
This month two UBIS students from 2 different continents – did just this!  Connecting in online classes for the past month, Tom Brennan & Sascha Von Wolfersdorf's travel schedules aligned, and they met up in Philadelphia, Pennsylvania. Sascha, Senior VP of Qatar Airways QRCS, and Tom, Global Recruitment Advisor – two classmates in the UBIS Doctorate of Business Administration program, took the opportunity to meet face to face – networking at its finest!  From classmates and professors to alumni and industry professionals, you will be surrounded by dozens of like-minded people during your studies. Learn how to broaden your network— whether you are taking classes on-ground or online—using the four tips below.
1. Be on the lookout for network opportunities:
One benefit of graduate school is the increased opportunity to connect with classmates, professors, and industry professionals.  Take every chance you get to build personal relationships.  Relationships with your peers and professors within the classroom are important. Also, stay on the lookout for university events you can attend or industry-aligned clubs you can join in your spare time.  Any occasion can become a networking event if you are on the lookout.
Being on the lookout for online students:
Social networks can be your letter of introduction to the world of work, and the scope of this information can open doors for you.  Start by contacting those who are taking online courses with you.  It is highly likely that they will share purposes, job offers, and ideas, as they already have their field of study in common.  You may also consider starting your own online group.  Include a weekly video call or an email exchange with other students in your program to discuss industry trends, a topic covered in class, and more.
2. Good image and attitude are key to networking:
Like it or not, one thing is certain: image and attitude are powerful tools when closing deals.  A good attitude reveals personality, and gestures, looks and postures can communicate a lot about us.  Yes, even more than words. Present yourself clearly and concisely and make yourself known.
You must be aware of your body language.  Do you look like an open person, accessible and willing to relate to other people?  Crossing your arms or avoiding eye contact will certainly make you appear closed and unapproachable, so be sure to put out friendly, positive vibes in the way you conduct yourself.  So much of networking today is done online which levels the playfield among on-ground and online learners.  Just as you would in person, make sure to put your best and most professional foot forward when making virtual connections, as well.
Networking proposes that you can respond to the needs of others and that they can do the same for you. Being kind and respectful is part of maintaining a strong network over time.
Maintaining an online presence for online students:
If you want your classmates to learn more about you and your professional background, focus on establishing an online presence.  It could be as simple as creating a profile on LinkedIn. When doing so, make sure you:
Upload a professional photo that features simple background and makes you the focal point
Create a compelling headline that speaks directly to your audience and your specialty
Detail all relevant work experience and quantify what you accomplished in each role
Add links to relevant sites, such as your online portfolio or company blog, which can help highlight and support your experience
Incorporate keywords you want recruiters to associate you with when searching LinkedIn, such as "financial analyst," "innovation," or "marketing strategy"
Fill out as many profile sections as possible, from your "Volunteer Experience" to "Accomplishments"
Keep your profile updated!  Remember to build your online network!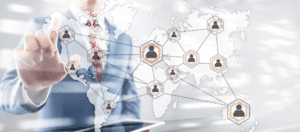 3. Reach Out to Your Professors – they are part of your online network:
Your professors are the people who have the greatest influence on your professional life, as they can give you recommendations and have the contacts to help you enter the field for which you have studied. Do not forget to generate a good relationship with them. Use these advantages and ingratiate yourself with them, they will certainly remember you when faced with a job opportunity or an internship.
Teacher and online students' relationship help build online networks:
For students in online classes, cultivating relationships with professors is almost more important than it is for those who study on campus. This is because the time you invest in networking with your professors might be the only chance you will both have to learn about each other's backgrounds, motivations, and aspirations.
Start by actively participating in class, through the presentation of your image as a professional and responsible. You can introduce yourself with an email and thus, begin to open a communication bridge with them. You already have the most important thing in common, similar areas of study.  This will build your online network.
4. Don't forget to follow up with your contacts in your online network:
After meeting a professional contact for the first time, you should not miss the opportunity to stay in touch. Qualitative monitoring must be superimposed on the quantitative one, always with a certain balance, since each one has its due importance within networking. Qualitative monitoring can be quite helpful in identifying opportunities, checking behavior trends, and answering questions that involve people's feelings and perceptions.  Emailing links to relevant articles with a brief, thoughtful analysis is probably the easiest way to keep up a relationship, and show contacts that you are paying attention by congratulating them on career milestones.
Interacting with people from different professions, nationalities, and cultures gives you a broader scope of life.  Your open-mindedness increases every time you socialize with people from diverse backgrounds, ages, and points of view. Another advantage of building an online network is that this open-mindedness and understanding teach you to become a better team player!
At UBIS, we pride ourselves on offering unique opportunities to work with international business organizations and prepare you for the next stage of your globalized career. Learning how to network online will enhance the opportunities available to you when your graduate. So, start building that network of future colleagues, mentors, and employers now and set yourself up for future success.
Comments are closed.